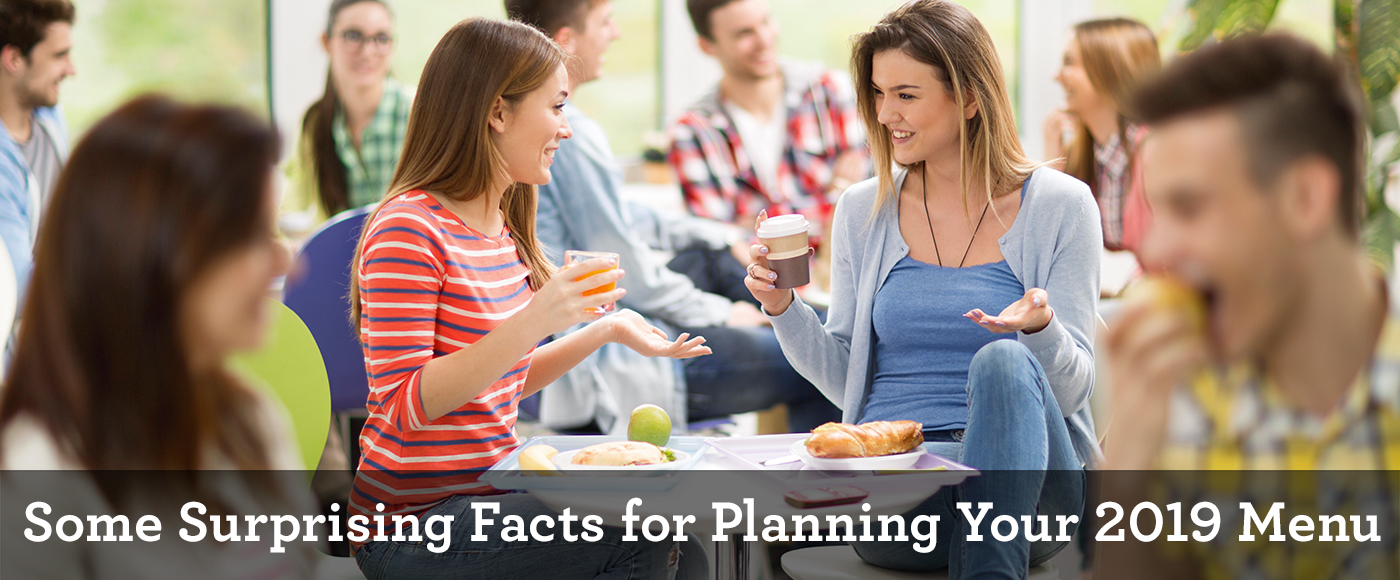 The College & University segment learned the importance of snacking ahead of the mainstream restaurant crowd. Not surprisingly, snacking upgrades are on most C&U menu agenda for 2019. Red Gold surveyed data for several sources to help you set your own path toward winning snacks at your operations.
First, some surprises. When it comes to snacking, yogurt, breakfast cereal, and salads are actually eaten much less often than you think. According to foodservice menu analysis by Datassentials, while 18% of consumers say they eat a salad daily, only 5% actually do. Of 22% who say they eat breakfast cereal every day, just 10% actually do.
Even when yogurt is declared by a chart-topping 19% of those who say it is their favorite snack, only 10% consume it on a daily basis. What do they eat?
10% claim that they eat a burger daily and 9% actually do.
16% report eating a sandwich or wrap daily — but 20% do.
With that information, what snacks should be on your radar for 2019?
Trending snacks include hybrid desserts, fruit chips, ancient grain chips and craft popcorn. Locally-sourced produce, dairy, and baked goods are must haves for many C&U snack menus that are prepped and packaged for grab-and-go or dine-in snacking.
Snacks that can claim that they are "high in protein" and "energizing" are winning ideas. Clamshell boxes containing mini bagels, hard-cooked eggs and apples slices are just one of many ideas that are healthy and meet the demand for a perceived "all day breakfast".
Try an easy grab-n-go meal that is popular, yet familiar for the Lunchable College Student Bunch:
A Pizza "Munchable" Grab N Go Meal: Flatbread cut in to triangles or Pita Bread, Pepperoni Slices, Shredded Cheese, with marinara cups for the sauce.
Or A Nacho Munchable Meal with Chips and Salsa and Cheese for Dipping!
Let Red Gold help by providing a "healthier" variety of Salsa in a #10 can or convenient Portion Control Cups (1.5 oz or 3 oz.).
Familiar twists with a healthy halo are student favorites. The University of Texas-Austin (UT) leveraged cauliflower florets tossed in olive oil, chili powder and garlic powder then roasted in an oven and piled high on a corn tortilla with a vegan ranch dressing. Another UT hit is Cowboy Grilled Cheese using thick Texas toast, a combination of cheeses, barbecued beef brisket and pickled jalapeños.
Wholly 44% of C&U foodservice directors surveyed by Datassentials recently said that they were upping their games in grab-and-go; 33% said they were planning to add more emphasis on their salad bar program. Other fresh ideas for 2019 include quick-fired made-to-order pizza, pop-up stations away from the conventional dining areas and hot bars.
Another flavor still on the rise is Sriracha with a 13% menu growth in 2018 and a 170% growth over the past four years. Plus, the pairings for Sriracha sauce or ketchup are endless! You can compliment any sandwich, burger, pizza or wings either as a condiment or main ingredient.
Innovative fresh ideas for snacking can be your edge for growth in 2019. Red Gold is happy to help with healthier tomato products and convenient packaging options for Marinara Sauce and Salsa as well Huy Fong Sriracha Hot Sauce PC packets to spice up other meal combinations.